U-19 star Yash Dhull blasted on the cricket field again, did a memorable feat in the very first match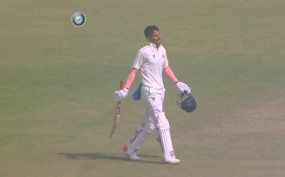 Digital Desk, Guwahati. India's youngsters have started with a bang in the domestic clash that started after a one-season break due to Corona. The Ranji Trophy season of the year 2020-21 was canceled due to Corona infection. Captain Yash Dhull, who made the Indian team the Under-19 World Cup champion, has made a great start to his Ranji Trophy career. He entered domestic cricket by scoring a century in his very first match.
On the other hand, Raj Angad Bawa got the wicket on his very first ball.
Match is being played against Tamil Nadu
Yash Dhull, making his debut for Delhi in domestic cricket, scored a century in his very first Ranji Trophy match against Tamil Nadu. Dhull did this feat in 133 balls with the help of 16 fours. However, he got a lifer when he was 3 runs away from his century. On 97, he played a pull shot which was caught by the fielder, but after replays proved a no ball, he got a chance to complete his maiden century.
on Ranji Trophy debut!

This has been a fantastic batting performance from Yash Dhull in his maiden First Class game. @paytm , #RanjiTrophy , #DELvTN , @YashDhull2002

Follow the match https://t.co/ZIohzqOWKi pic.twitter.com/uaukVSHgUq

— BCCI Domestic (@BCCIdomestic) February 17, 2022
Bad start of Delhi
Delhi got off to a poor start, with Dhruv Shorey (1) and Himmat Singh (0) being dismissed in the first 3 overs itself. After this, Yash along with Nitish Rana added 60 runs for the third wicket. Rana scored 25 runs. Yash shared a century partnership with Jonty Sidhu for the fourth wicket. Jonty is also moving towards his half century.
Raj Angad Bawa also did wonders
Playing for Chandigarh, Raj Angad Bawa took a wicket in the very first ball of his first-class cricket, where he showed the way to the pavilion of Hyderabad captain Tanmay Agarwal. Angad has taken two wickets so far. He also got the wicket of veteran Hyderabad player Akshat Reddy. Raj Angad Bawa took 5 wickets in the Under-19 World Cup final match and also scored an unbeaten 35 runs.
,