How long will you get a chance in Team India on the basis of name? Lest there be a T20-like situation in the ODI World Cup as well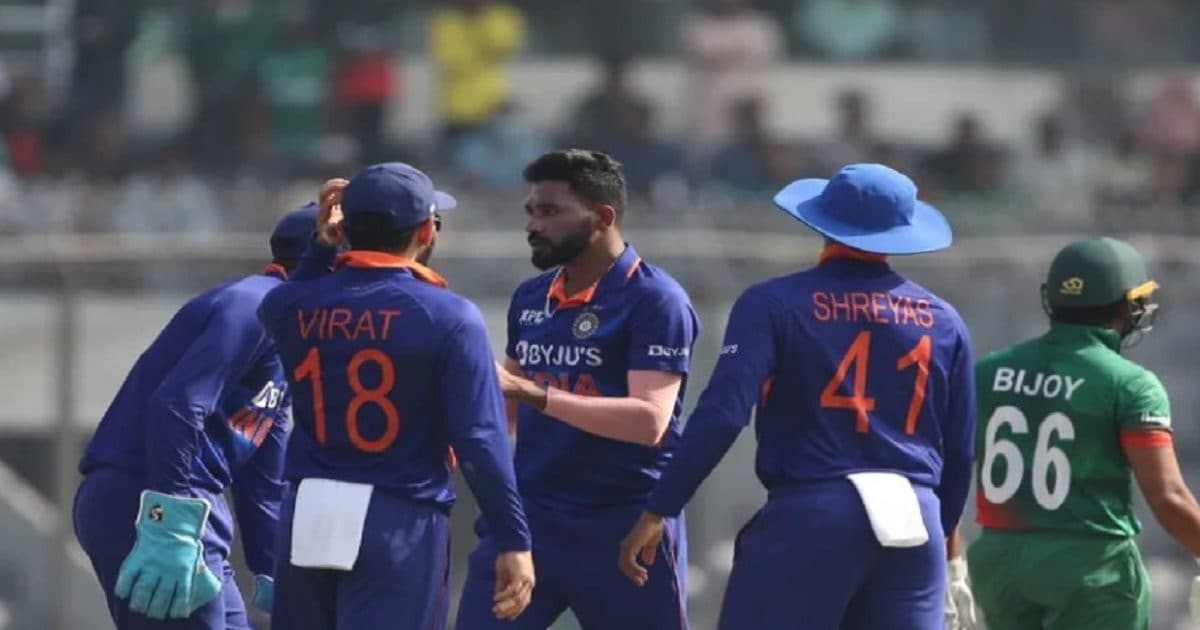 highlights
Question on Team India after losing 2 consecutive ODIs against Bangladesh
How long will veterans play in Team India on the basis of name?
Time to take tough and big decisions for ODI World Cup
New Delhi. The 10-wicket defeat by England at the hands of Team India in the semi-finals of the T20 World Cup was somehow digested by the fans and the functionaries of Indian cricket. But, in the presence of Rohit Sharma, KL Rahul and Virat Kohli ie the trinity of Indian cricket, the way Bangladesh defeated India in two consecutive ODIs at home, it is not easy for anyone to digest it. However, coach Rahul Dravid and captain Rohit Sharma present a million clarifications.
One thing is clear that to bring Team India back on track, now the BCCI and the people running the cricket in the country will have to take tough and big decisions. Because this year ODI World Cup is to be played in India only and since 2013 India has not played any ICC tournament. In such a situation, if there is a delay in taking the decision, then like the T20 World Cup, if India is disappointed in the ODI World Cup, then it will not be a big deal.
The humiliating defeat in the ODI series against Bangladesh has raised a question as to how long India will get a chance only on the basis of past performance and name. Shikhar Dhawan has been playing ODIs for the last 1 year and is the player with the most number of matches in 2022 for India in this format. But, looking at his performance in Bangladesh, he scored only 7 runs in the first ODI and 8 runs in the second. Before this, except for the innings of 72 runs played in the first ODI on New Zealand tour, runs did not come off his bat in the remaining two matches.
Time to look beyond Dhawan
Earlier, Dhawan's bat remained silent even in the domestic ODI series against South Africa before the T20 World Cup. He scored only 25 runs in three matches of that series. Dhawan is not only struggling to score runs, but his strike rate has also come down a lot this year. In the three years before 2019, his strike rate was above 100. But, this year he has scored 685 runs in 21 matches at a strike rate of 74.
Due to T20, the style of playing ODI has completely changed. Now in the first 10 overs, the batsmen try to score fast. Dhawan's strike rate of 74 does not fit in that. It is not that the batsman is not present in the team to take his place. Shubman Gill has batted brilliantly in ODIs this year. There seems to be continuity in them. While starting the innings, he is continuously scoring runs outside India as well.
Gill should prepare for the World Cup
Gill has scored 638 runs in 12 matches so far in 2022 at an average of 71 and a strike rate of 102. These figures are much better than Dhawan's. Dhawan's age is also 37 years. At this age, the reflexes of a batsman become weak. Whereas, Gill is 23 years old. He is fit and knows how to bat with the approach of Modern Day cricket. In such a situation, the time has come for the Indian team management to give Gill a chance in place of Dhawan in the top order.
Apart from Virat, other batsmen should be given a chance.
Virat Kohli may be the top scorer of the T20 World Cup. But, his strike rate was less than four of the top-5 batsmen who scored the most runs in the tournament. Suryakumar Yadan scored runs in the tournament at a strike rate of 190, while Virat was able to score runs at a strike rate of 136. His recent ODI form is also not very good. He has played only 10 ODIs this year. In this, he has scored 189 runs at an average of 19. His strike rate has been 73, which is even less than Dhawan. He played fewer ODIs this year due to the T20 World Cup and mostly rested under workload management in the series. Now its effect is visible.
Suryakumar and Shreyas can lift the middle order
Even though Suryakumar Yadav is considered a specialist batsman of T20. But, in ODIs this year, he has scored runs at a higher average and strike rate than Virat. Suryakumar has scored 260 runs in 13 matches at an average of 26 and a strike rate of 92. If he is given a consistent chance in the middle order, then he can be ready for the World Cup.
India and Sri Lanka series from January 3, 19 matches to be played from 3 countries before IPL
Samson can play the role of wicketkeeper batsman
KL Rahul has also not been able to perform according to his stature this year. He has scored 243 runs in 9 ODIs this year at an average of 30. The way he has been made wicketkeeping on Bangladesh tour, it seems that he might play this role in ODI World Cup as well. But, if the Indian team management looks beyond him, then there is one wicket-keeper batsman who can be groomed for the World Cup, his name is Sanju Samson. Sanju has done brilliantly in ODIs this year.
IND vs BAN: Bengal's young opener will replace Rohit Sharma, has scored 25 centuries
He has so far scored 284 runs in 10 matches at an average of 71 and a strike rate of 105. He is seen in rhythm. In such a situation, if on the basis of name only veteran players get a chance again and again and players like Sanju are ignored, then it should not be surprising if Team India's condition in ODI World Cup is similar to T20 World Cup.
First read breaking news in Hindi ErangpurCityNews| Read today's latest news, live news updates, most reliable Hindi news website ErangpurCityNews.
Tags: India vs Bangladesh, KL Rahul, ODI World Cup, Rohit sharma, shikhar dhawan, Shubman Gill, team india, Virat Kohli
FIRST PUBLISHED : December 08, 2022, 15:10 IST

#long #chance #Team #India #basis #T20like #situation #ODI #World #Cup